OSHA-10 Hour Training Benefits Every Workplace
November 01, 2023
Construction, General, Healthcare, Hospitality, Manufacturing, Retail, Services, Education, OSHA

There is a compliance officer from the Occupational Safety and Health Administration (OSHA) at the front entrance asking for the person in charge.
What is OSHA? What procedure do we follow? Do we have a plan of action? If you don't know the answers to those questions, an OSHA 10-hour training course may help you and your organization prepare for such an event.
An OSHA 10-hour training class can benefit supervisors, production leads, managers, safety coordinators, human resources personnel, quality managers … anyone in your organization who wants or needs to learn about controlling the hazards associated with OSHA's most frequently cited standards. Because every business has a duty to protect employees, you don't have to work in just manufacturing or construction to reap the rewards. All businesses including health care, hospitality, service, and automotive industries could benefit from OSHA 10-hour training.
OSHA is the part of the United States Department of Labor responsible for creating and enforcing workplace safety standards to ensure safe and healthful working conditions through training, outreach, education, and other assistance. The OSHA 10-hour course is part of that initiative and is taught by authorized instructors. There are OSHA 10-hour courses available for general industry, construction, and maritime.
Topics covered in the general industry course include an introduction to OSHA, a section on walking and working surfaces, fall protection, exit routes, emergency action plans, fire prevention plans, personal protective equipment, and hazard communication.
In the construction sector, the primary focus is on the four main hazards causing fatalities: falls, "caught-in or -between," "struck-by," and electrocution. Also covered are an introduction to OSHA, personal protective and lifesaving equipment, and health hazards in construction.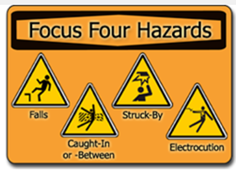 While OSHA 10-hour training is not mandatory, its industry-specific tips allow employees to understand specific injury threats prevalent in their industries so they can implement safe practices and prioritize changes needed to provide a safe workplace.
Every attempt is made to provide a variety of teaching methods for various adult learning styles, including an emphasis on instructor interaction with students, who come from a variety of businesses and often provide differing perspectives.
While the course takes longer than 10 hours to complete and is typically conducted over a two-day period, it is well worth the time. Beyond the required course topics, MEMIC safety management consultants can work with your organization to determine the most suitable topics for your business if you elect to hold a course at your establishment with a minimum number of attendees. You may prefer to join one of MEMIC's open sessions, which allow you to have discussions with other business types and industries.
MEMIC continues to offer multiple high-value opportunities for policyholders to attend these helpful training courses at no additional cost.
You can register to attend in person or virtually on MEMIC's Workshops and Webinars page. To request assistance for OSHA 10-hour training more specific to your organization, talk to your MEMIC Safety Consultant directly.
For more information, listen to this podcast with Laurie Nolt, Justin Banks and Randy Morehouse about the benefits of the OSHA 10-hour training.
OSHA 10-hour training does not prevent an unexpected OSHA visit or citations, but it does equip your employees to be better prepared for such a visit.
Make sure you aren't surprised by an OSHA visit. Register today!
Reference: Outreach Training Program | Occupational Safety and Health Administration (osha.gov)