MEMIC EPLI
Available for Maine policyholders only at this time.
If you're a MEMIC policyholder in Maine, you have access to quality, affordable Employment Practices Liability Insurance (EPLI). We are also working to make it available in other states as well.
For a few dollars a month, you can protect your organization against lawsuits such as:
wrongful termination
retaliation
sexual harassment
discrimination related to age
gender
race or disability failure to employ or promote
No matter how small your organization is, you are at risk in today's lawsuit-happy world. MEMIC's unique endorsement to your workers' compensation policy can bring you protection - including specialized legal defense - against these suits. And that's important given the average cost for defending even a baseless employment lawsuit is $20,000 per case.
Add EPLIHow do I get MEMIC Edge?
It's easy. Contact your insurance agent and tell them you'd like to add it to your workers' compensation policy.

Is an application needed?
No application is needed for the standard MEMIC Edge with EPLI endorsement.
Enhanced policies require a brief supplemental application. Contact your insurance agent for more information.
The Choice for EPLI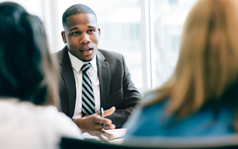 Download
EPLI Claims
If you have added MEMIC EPLI to your policy and your claim is employment practices related, please call 1-877-310-3343 or email us at:
epli@memic.com
Support & Training

If you've added EPLI to your policy, access the best in support and training.