Corporate Responsibility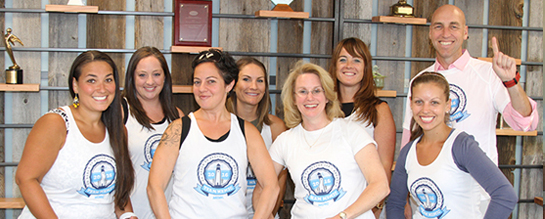 MEMIC believes in fair treatment and honest dealings in all that it does, whether with employees, policyholders, injured workers, agents, regulators, vendors or other business partners.
To that end, we have worked to foster a culture that supports these values. While these values are reinforced each and every day, they are formalized by an annual review and signing by every employee of the company's Code of Business Conduct and Ethics.
We believe that our values have been key to our overall success since our inception in 1993. And, with that in mind, we intend to continue this commitment indefinitely.
Awards and Commendations
MEMIC has earned recognition from many groups and organizations, including Maine Businesses for Social Substainability, the Maine Chamber of Commerce, the Greater Portland Chamber of Commerce, the Maine Society for Human Resources Management, the Maine Insurance Agents Association, Million Women Mentors and ACORD.
Harvey Picker Horizon Scholarship
Annually since 2000, MEMIC has awarded scholarships to children and spouses of an injured worker whose family's ability to pay for college has been significantly impacted by the worker's injury. The company has made scholarship awards totaling more than $155,000. Learn more about the Harvey Picker Horizon Scholarship (which is named for former MEMIC Board member Harvey Picker), including how to apply.
Membership and Sponsorship
MEMIC supports a variety of organizations through membership and employee involvement. MEMIC is a member of the Maine Chamber of Commerce, the Greater Portland Chamber, the Greater Manchester Chamber of Commerce, Maine Business for Social Substainability and the Safety and Health Council of Northern New England.

MEMIC is also a member of national insurance trade organizations which help to foster good public policy that serves our policyholders. We are members of the American Association of State Compensation Insurance Funds (AASCIF) and the National Association of Mutual Insurance Companies (NAMIC)
Employee Volunteers
MEMIC employees are involved members of their local communities. The company encourages this involvement by example and by getting behind efforts to raise funds and help in our local area. Chief among these efforts is our annual United Way campaign. MEMIC employees received an award for their charitable giving after their 2017 United Way campaign pledged more than $50,000. MEMIC also gives $100 to every employee to donate to a non-profit whose mission lights them up. In addition, employees led efforts to raise funds for the local chapter of the American Heart Association and the National Kidney Foundation. Employees in our home office in Portland, Maine raise thousands of dollars for "Strikeout Cancer in Kids," a fundraiser for the Maine Children's Cancer Program.