History
Maine Employers' Mutual Insurance Company (MEMIC) is a private mutual insurance company celebrating its 30th anniversary in 2023.
Workers' Comp Reform
Maine Employers' Mutual Insurance Company (MEMIC) is a private mutual insurance company celebrating its 30th anniversary in 2023.
When it opened in January 1993, MEMIC was one of four companies licensed to sell workers' compensation insurance in Maine, with the other three poised to exit the state altogether. Injury rates at Maine companies were high and workers' compensation costs were the nation's highest.
In response, the Maine Legislature passed a landmark workers' compensation reform law, signed by then-Gov. John R. McKernan Jr., creating a private mutual company governed by policyholders. Despite its public purpose, MEMIC received no funds nor guarantees from the State of Maine.
The company's board of incorporators set out to form a different kind of insurance company – with a mission of "workplace safety, fair treatment of all workers, and a strong Maine economy." One founding board member declared MEMIC "should be a safety company that sells insurance."
What would become known as "a Maine Miracle" in local media, MEMIC was, and remains, a key force in delivering on the 1993 reforms, with a proven structure that unleashed a vibrant workers' compensation insurance market by providing a guarantor for all Maine employers.
Even after 30 years, injury prevention, workplace safety, and compassionate care for injured workers remains at MEMIC's core as it partners with policyholders in a social contract to reduce injuries, control costs, improve treatment, and drive business results.

A Culture of Safety and Care
By creating a robust loss control department that stressed safety training, and by launching a multi-year "Partnership for Workplace Safety" public awareness campaign, MEMIC helped lead the way to cultural change inside Maine's workplaces.
Fair and compassionate treatment of injured workers was a MEMIC hallmark from the outset. By working to resolve disputes between employers and employees, assuring rapid and appropriate medical care for injured workers, and making timely benefit payments, the company has become a leader in medical case management and return-to-work strategies that have helped revolutionize the workers' compensation industry.
Stopping Injuries Lowers Costs
In the 30 years since MEMIC's formation, lost-time injuries in Maine have been cut in half, the overall cost of insurance has been reduced by about 60 percent, and more than 200 insurance companies have become licensed in a competitive market. Still, MEMIC has remained the leader, insuring more than 65 percent of Maine's insured employers.
Staying Power
MEMIC's focus on helping companies limit workforce injuries has made it a financial success, as well.
With no public funding, MEMIC was allowed to collect a unique capitalization fee from policyholders and was given 10 years to accumulate adequate capital. With early favorable underwriting results, the company ended the fee after just five years, collecting $47 million.
And, while it was under no obligation to do so, in 1998 MEMIC began returning this capital to its eligible policyholders. By 2001, MEMIC began issuing annual dividends due to positive financial results. That's because, in the mutual form of incorporation, policyholders share in the profits if the board of directors consider it prudent.
By 2022, the company had issued more than $333 million in dividends and capital return to its policyholders, including double-digit dividends for 11 years running.
Best in America
MEMIC's success has earned it accolades and recognition from a host of organizations.
In 2010, the company earned attention as the best commercial insurer in the nation for customer service. In 2018, ACORD -- the global standards-setting body for the insurance industry -- ranked MEMIC the top workers' compensation company in the U.S., based on strong financial performance, as well as measurable, superior capabilities in customer experience, employee satisfaction and brand reputation.
In addition, the company's senior management is well-known in the industry, earning frequent attention in insurance and business publications and forums nationwide.
This recognition came alongside impressive business results and geographic expansion.
By 2016, the company collected more premium from policyholders beyond Maine than in its home state, where it remains the largest and leading workers' compensation insurer. MEMIC is now among the top five carriers in New England and holds the distinction as being the fastest-growing workers' compensation insurer in New York.

MEMIC's reputation as an innovator also continues to grow.
In 2008, MEMIC became the first company to introduce Employment Practices Liability Insurance (EPLI) as an endorsement to its workers' compensation policies in Maine. Thousands of MEMIC policyholders have adopted MEMIC EPLI giving them protection from lawsuits such as wrongful termination, retaliation, failure to employ or promote, sexual harassment, and discrimination related to gender, age, race, or disability.

In addition, the company's rollout in 2011 of Comp-As-You-Go, a payroll-based payment method, has proven popular with policyholders. New innovations in 2022 include upgrades to its online portal for policyholders, enhanced access to its massive library of safety resources, and secure new digital platforms to speed payments to injured workers, medical partners, and legal entities.
Far Beyond Maine
In 2000, MEMIC formed MEMIC Indemnity Company, a subsidiary based in Manchester, N.H., that is licensed to serve employers in 46 states with a focus on the Eastern Seaboard from Maine to Florida.
In 2012, MEMIC acquired a Vermont-based insurer to create MEMIC Casualty Company, providing greater price flexibility to its policyholders.
Together, MEMIC Indemnity Company and MEMIC Casualty Company form The MEMIC Group, a company with assets in excess of $1.4 billion and rated A (Excellent) by A.M. Best.
The company's innovative spirit and mission continue to distinguish it among its many competitors, as well as within the force of independent agents who increasingly recommend MEMIC to their customers.
Relying particularly on its Champion Circle agency partners, the company serves all sizes of employers with MEMIC Express for small businesses, as well as programs for middle market and large employers who may choose to share risk via loss sensitive policies.
A Purpose-Driven Company
In the runup to its 30th anniversary, an enterprise-wide self-examination helped articulate its core values to Be An Expert, Be Curious, Be Conscientious, Be A Partner and Be Transparent.
Those values are the enduring foundation for MEMIC's mission statement: To make workers' comp work better with compassion, trusted partnerships, and relentless commitment to workforce safety.
If history is any indication of the future, The MEMIC Group will be serving its policyholders and their employees for many decades to come.
In addition to its corporate office in Portland, Maine, the group maintains offices in Manchester, N.H.; Albany, N.Y.; and Tampa, Fla.
MEMIC: A Maine Miracle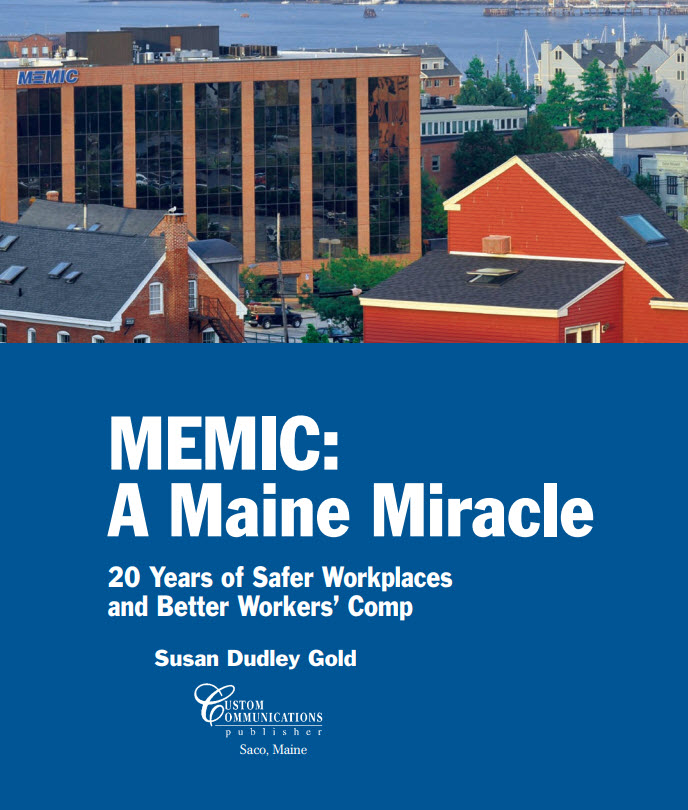 By Susan Dudley Gold, this book celebrates the accomplishments of MEMIC over the past 20 years.
Download
Four Maine Governors Reflect on MEMIC's Success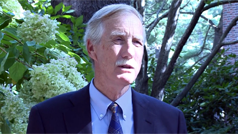 Watch Video