The Heat is (Still) On, Especially In These Jobs
August 09, 2023
Transportation, Construction, General, Logging, OSHA, Outdoor Safety
In our July 13 post, we reminded you about the seriousness of heat-related illness in the workplace. In the four weeks since then, data indicates workers toiled through the hottest days in earth's history -- a trend that seems certain to continue.
So, while summer 2023 may be the hottest ever, it also may be the coolest from now on because of the many interrelated factors that link climate to workplace safety.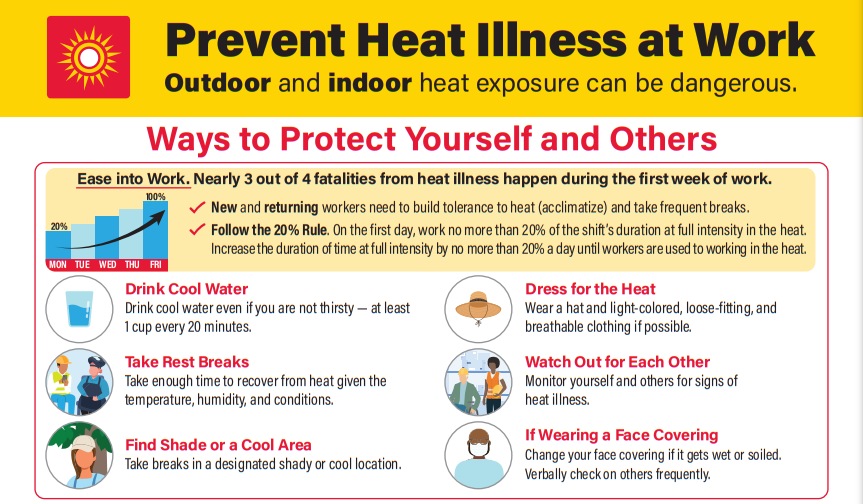 There's been considerable research on climate change, less about its effects on workers, even though they are often the first exposed to climate hazards, for longer durations, at greater intensities. While heat risks are especially prevalent for workers with heavy outdoor exposure, many indoor working environments also pose dangers that can be mitigated.
Using data from OSHA, MEMIC identified these occupations as posing extreme heat risk, and offers these job-specific tips – in tandem with standard precautions -- for avoiding hyperthermia, heat exhaustion, dehydration, and other serious, possibly fatal effects of working in excessive heat:
Emergency responders: According to EMS1, an online information resource for the EMS community, ambulance personnel and firefighters feel heat not only from the environment but from sources encountered at scenes that, by definition, cannot be heat-controlled or scheduled for after dark. Also, personal protective equipment (PPE) such as masks add physical stress, as does the rescue equipment and gurneys that must be carried. EMTs should train for such stress after dark and off season while looking to procure lighter, more breathable replacement gear. Managers should support heat-conscious procurement and stagger summer schedules as much as possible to limit daytime exposure.
Commercial fishermen: Commercial fishing is one of the most hazardous occupations in the United States, according to the National Institute of Health, with a fatality rate over 40 times higher than the national average. Long work hours, strenuous labor, and hazardous machinery make life on the open water full of risks, and sun exposure – though not one of the biggest job risks -- comes from both the atmosphere and intensive reflection off the water. Standard hydration and protection precautions apply (including prohibition of any alcoholic beverages), and fishing boats should be outfitted with adequate cover to allow for sheltering.
Farmers: Farmworkers are up to 35 times more likely to die from heat-related illness than other workers, according to advocates. While laws requiring employers to offer paid breaks in cool spaces, access to water, limits of exposure, and training on risk factors are not yet on the books, these measures should be widely standardized, along with night harvesting, staggered scheduling and greater mechanization.
Transportation: From work zone flaggers to truck drivers, the transportation sector has perhaps the biggest range of possible heat hazards, with indoor and outdoor exposures. When scheduling and equipment cannot be optimized (with nighttime road work and air-conditioned vehicles, for example), technology such as telematics and logistics software can help consolidate trips and jobs to maximize efficiency and limit human exposures. Meanwhile, research into wearable sensors continues for a variety of workplace hazards.
Utility workers: From 2002 – 2016, 20 utility line workers died as a direct result of heat stress, according to OSHA, with some 5,190 such workers suffering an occupational injury in a recent year, according to the Bureau of Labor Statistics.
Linemen are constantly working outdoors in variable conditions which make the bundled layers of protective apparel they're required by law -- an acute danger in a profession full of danger. Utility workers should choose breathable clothing that wicks moisture and position equipment within shade and timed for declining sun angles to reduce exposure.
Of course, employers in any industry must provide the basic heat risk protections that NIOSH recommends, including engineering and work practice controls, training and acclimatizing workers before hot outdoor work begins, and providing appropriate hydration and rest breaks in shaded or cool indoor areas. In addition, OSHA has a sample Heat Illness Prevention Plan, and the OSHA-NIOSH Heat Safety Tool App provides real-time, hourly, location-specific heat index forecasts to guide planning.
Meanwhile, the push for worker protections continues. In 2022, OSHA launched the National Emphasis Program for Outdoor and Indoor Heat-Related Hazards to mitigate exposure to heat-related workplace risk, expanding on its growing body of research into heat-related illness at work.
For more resources, visit: