Sprinkler Heads - In Sight, But Out of Mind
August 11, 2021
General, OSHA, Inspection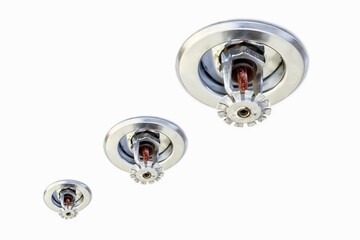 Most of us don't pay much attention to sprinkler heads, even when we are walking right under them. We may not even notice them; they seem to just be an integral part of the
building. But clearly, they do have an important role to play should a fire occur. Understanding a little about the system you have in your workplace, including any maintenance procedures required, is also important. After all, OSHA requires all portable fire extinguishers to be checked monthly, so shouldn't we also pay attention to the building's sprinkler system on a regular basis? If the unthinkable occurs, we surely want the system to work as designed.

All commercial buildings are subject to multiple codes and regulations to ensure the integrity of the structure and the safety of the occupants. Passing an inspection by the fire marshal is often part of the drill, and yes, sprinkler systems and the sprinkler heads must also meet these building codes and regulations.

Installing the right sprinkler system and head is critical to its success in controlling or extinguishing a fire. Systems need to be chosen by evaluating the occupancy hazards and the building conditions including ceiling height, type of construction, ambient temperature, available water supply, and the area the sprinklers will be protecting.

NFPA 13 provides criteria for the occupancy hazard classification for the purposes of sprinkler installation, design, and water supply requirements. These occupancy hazard classifications are not indicative of the general hazard classification for the occupancy such as those contained in NFPA 1 and NFPA 101. Occupancy hazards are classified as a light, ordinary, or extra hazard based on the quantity and/or combustibility of contents. The table below provides examples of each of these.
| | |
| --- | --- |
| | |
| OCCUPANCY CLASSIFICATIONS | EXAMPLES |
| LIGHT | Offices, hospitals, museums, educational, clubs, churches, animal shelters, restaurants |
| ORDINARY- Group I and Group II | Bakeries, laundries, mechanical rooms, auto showrooms, repair garages, machine shops |
| EXTRA- Group I and Group II | Aircraft hangars, sawmills, textiles, die casting, plastics, flammable liquids spray |
The activation of a sprinkler system will vary according to the building's environment and temperature settings. This is why the glass "bulb" within the sprinkler head is color coded. This small glass bulb holds a heat-sensitive liquid. When the ceiling temperature reaches a specific level, the liquid inside will expand causing the glass to break thus releasing the extinguishing agent. Alternatively, heads might include "fusible links" instead of glass bulbs. These are soldered connections that melt at predetermined temperatures thus releasing the flow of extinguishant.
Sprinkler heads must meet certain requirements, to include their spacing, distance from the floor or shelving, and even the extinguishant that will be coming out of the heads once the system has been activated. If these requirements are not met activation will be delayed which would delay the extinguishant from being sprayed during a fire.
The bulbs and links are color coded with each color representing the temperature at which it will break, thus releasing the water flow. The chart below depicts the colors and temperature ranges.
| | | | | |
| --- | --- | --- | --- | --- |
| MAXIMUM CEILING TEMP | TEMPERATURE RATING | TEMPERATURE CLASSIFICATION | COLOR CODE (WITH FUSIBLE LINK) | GLASS BULB COLOR |
| 100°F / 38°C | 135-170°F / 57-77°C | ORDINARY | UNCOLORED OR BLACK | ORANGE (135°F) OR RED (155°F) |
| 150°F / 66°C | 175°F-225°F / 79-107°C | INTERMEDIATE | WHITE | YELLOW (175°F) OR GREEN (200°F) |
| 225°F / 107°C | 250-300°F / 121-149°C | HIGH | BLUE | BLUE |
| 300°F / 149°C | 325-375°F / 163-191°C | EXTRA HIGH | RED | PURPLE |
| 375°F / 191°C | 400-475°F / 204-246°C | VERY EXTRA HIGH | GREEN | BLACK |
| 475°F / 246°C | 500-575°F / 260-302°C | ULTRA HIGH | ORANGE | BLACK |
| 625°F / 329°C | 650°F / 343°C | ULTRA HIGH | ORANGE | BLACK |
Because some industrial environments operate at higher-than-normal temperatures, it's necessary that some fire sprinkler heads resist higher temperatures before bursting. Keep in mind that stacking material too high on shelves can block these sprinkler heads resulting in either improper activation or less than effective water application when activated. Ensure facility inspections include the sprinkler heads and that proper clearances are maintained.
Proper periodic maintenance of these systems is also important for proper operation. Refer to the manufacturer's recommendations or those of your sprinkler installation contractor. Although NFPA 13 prohibits the touching of these sprinkler heads due to the likelihood of damage or accidental activation, they should be kept clean and free of dust and debris as well as cobwebs. Regular inspection of the system should reveal any problems and professionally trained individuals should then take corrective action.
For more information pertaining to sprinkler heads take a look at the OSHA regulation on automatic sprinkler systems,
29 CFR 1910.159(a)
and
NFPA 13
, the standard for the installation of sprinkler systems.