New OSHA Fine Increases Can Have Big Impacts on Your Business
August 25, 2016
General, OSHA, Inspection
Beginning August 1, 2016 the cost for failure to provide a work place "free from recognized hazards," just got more expensive for employers.
For the last 25 years, OSHA penalties have remained unchanged. Since 1990, OSHA has been specifically exempted from a law which required federal agencies to raise their fines to keep pace with inflation. This has caused fines to remain static. However, this exemption was eliminated in November 2015 when President Obama signed the budget bill approving the Occupational Safety and Health Administration to increase penalties. Penalties are now adjusted to compensate for the cost of living increases since last adjusted in 1990.
The original OSH Act of 1970 specified that the maximum penalty for a serious violation would be $1,000, and the maximum penalty for a willful violation at $10,000. In 1990, the Omnibus Budget Reconciliation Act increased serious violations to $7,000 and willful violations to $70,000. Due to the rate of inflation since the last adjustment, the first adjustment has dramatically increased fines. The change represents a 78.2% increase in penalties and became effective on August 1, 2016.
Adjustment to Penalties: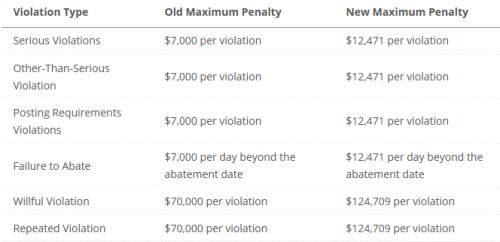 The maximum penalty for "serious," "other-than-serious" and "posting requirement" violations jumps 78% from the current $7,000 fine to $12,471. For "failure to abate" violations, fines jump to $12,471 per day and if violations are deemed "willful" or "repeated," employers are facing a $54,709 increase in the maximum fine, from $70,000 to $124,709, according to OSHA.
Moving forward, OSHA will also be required to implement annual cost of living increases by January 15 of each year to keep up with the pace of inflation.
How to Prepare:
Top 10 "serious" violations, fiscal year 2015: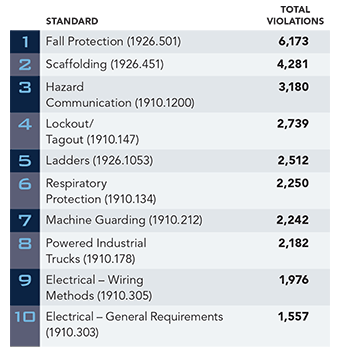 Top 10 "willful" violations, fiscal year 2015: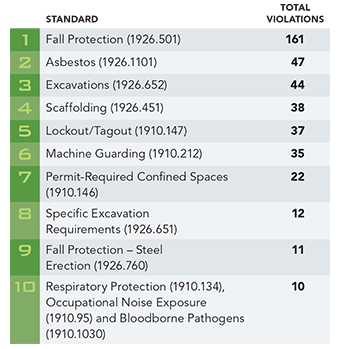 Conduct a proactive safety inspection of your facility with a focus on compliance issues. Contact your MEMIC Safety Management Consultant or your local OSHA Safety and Health Consultation Service for assistance.
Review OSHA's "Training Requirements in OSHA Standards" publication and compare against your training programs to ensure that each program meets the required components and frequency for safety exposures within your business.
Increase OSHA regulatory knowledge by enrolling employees in an OSHA 10 or 30 Hour Outreach Training Program. View upcoming MEMIC Workshops and Webinars or state resources like Maine SafetyWorks for upcoming class offerings.
Taking these steps will demonstrate an employer's commitment to employee health and safety as well as reduce the likelihood of receiving an OSHA citation.