Dividend
$22 million for Maine policyholders, the largest dividend in MEMIC's 25 year history!
More than 17,500 MEMIC dividend checks totaling $22 million are in the mail to Maine employers. Remember to thank your insurance agent for helping you choose MEMIC! The dividend is paid to employers who buy their workers' compensation insurance coverage from The MEMIC Group's mutual company, Maine Employers' Mutual Insurance Company, based in Portland, Maine. MEMIC has authorized the return of more than $263 million dollars to policyholders since 1998.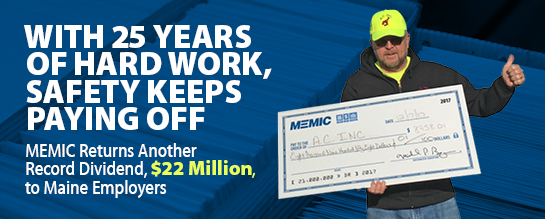 Share your dividend moment with us! Whether you snap a photo when your check arrives or you are excited to share how you plan to put your dividend to work, we would love to hear from you! Share photos and stories with us on Facebook or Twitter with the hashtag #SafetyPaysDividends.
If you have questions about the dividend, please contact the Dividend Hotline: 207-791-3508 or email dividend@memic.com.
2018 News Release