MEMIC's Stowell Receives Rising Tide Award for Patient Safety
September 19, 2018 |

Corporate, Safety
PORTLAND, ME, September 19, 2018 – For more than 30 years MEMIC's Beth Stowell, a senior loss control consultant to the health care industry, has worked to improve safety for patients and their caregivers. On Monday Stowell was recognized for her leadership, dedication and innovation with the Rising Tide Award at the 9th Annual Patient Safety Academy put on by the Muskie School for Public Service at the University of Southern Maine.
Stowell has been the driving force behind the Safe Patient Handling movement in the state of Maine in the 1990s. She was one of the first Nurse Safety Management Consultants hired in 1993 by MEMIC, the state's newly created workers' compensation insurer with a mission to reduce injuries and lower insurance costs. Their efforts saw much success as workplace injuries in Maine have been reduced by about 40 percent while the cost of insurance has decreased by 60 percent.
"Beth has improved the lives and workplaces of countless people," said MEMIC President and CEO Michael P. Bourque. "She successfully championed a patient handling paradigm that provided a safer environment for both patients and caregivers."
Jane Greenblatt of Home Hope & Healing, which received a safety award from MEMIC this year, praised Stowell for her training and guidance. Stowell also helped them get grants for new equipment so that children with medically complex conditions that require them to be lifted and assisted can be safer in their homes and have a better quality of life.
Stowell worked to create the Maine chapter of the Association of Occupational Health Professionals. She has been a member and served on the board of the association for 9 years and was its president for 4 years. She was appointed to the Maine Governor's Commission on Safety and Health in the Workplace in 1987 and chaired for 7 of her 14 years. Her impact expands far beyond Maine. She is recognized nationwide for the safety programs she has developed and has shared in national conferences and publications.
An advocate for lifelong learning, Stowell is a Certified Occupational Health Nurse Specialist (COHN-S), a Certified Healthcare Safety Professional (CHSP) and a Certified Hazard Control Manager (CHCM). She earned a master's degree in Public Health from the University of North Carolina and a bachelor of science in Nursing from the University of Vermont.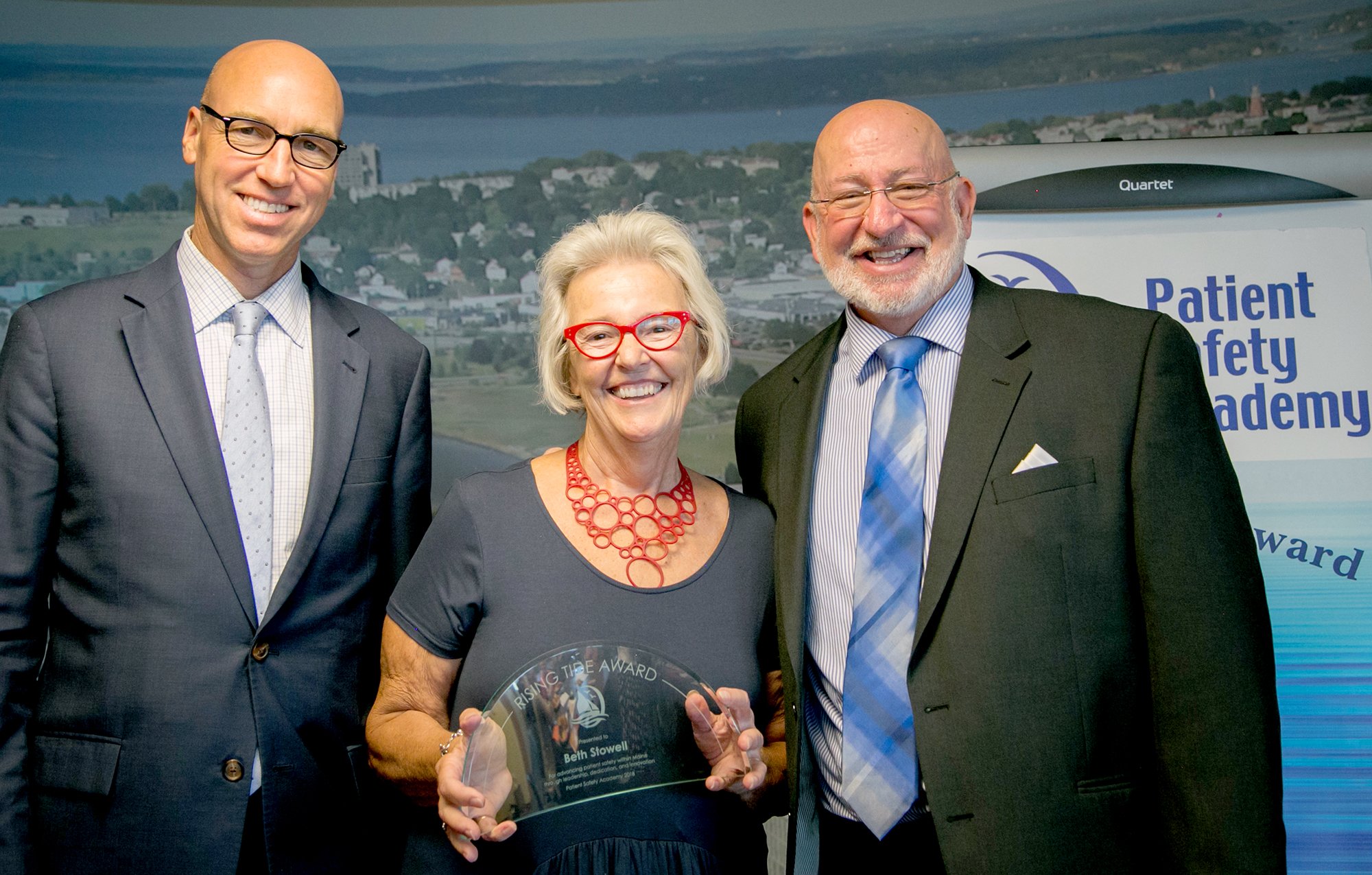 (MEMIC Safety Management Consultant and Rising Tide Award recipient Beth Stowell with MEMIC President & CEO Michael Bourque and MEMIC Senior Vice President of Loss Control & Safety Services Karl Siegfried. Photo by Angie Bordeaux, Cutler Institute, USM.)
###

About MEMIC
The MEMIC Group includes MEMIC Indemnity Company, MEMIC Casualty Company, and parent company Maine Employers' Mutual Insurance Company; all rated "A" (Excellent) by A.M. Best. As a super-regional workers' compensation specialty insurer, The MEMIC Group holds licenses to write workers' compensation across the country. The group insures more than 20,000 employers and their estimated 300,000 employees, and holds more than $1.3 billion in assets. The group maintains offices in Manchester, NH; Glastonbury, CT; Albany, NY; Weehawken, NJ; West Conshohocken, PA; Tysons Corner, VA; and Tampa, FL; in addition to its headquarters in Portland, ME.
About Patient Safety Academy
The Maine Patient Safety Academy grew out of an initiative by Maine's critical access hospitals to build an infrastructure that supports patient safety and quality improvement activities. This infrastructure led to multiple external grants and initiatives and the launch of the Maine Patient Safety Academy in 2010. Over the course of the last nine years, the Academy has provided both practical and cutting edge educational experiences for an interdisciplinary audience of healthcare providers, pharmacists, quality and patient safety leaders, students and consumer advocates.