MEMIC Named Insurance Company of the Year
November 30, 2018 |

Corporate
PORTLAND, ME, November, 30, 2018 – Members of the Maine Insurance Agents Association (MIAA) have voted MEMIC "Insurance Company of the Year" and presented the award to MEMIC at MIAA's Young Agents Sales & Leadership Conference this month.
"Cross Insurance is thrilled to congratulate MEMIC on receiving this incredible and well-deserved award," said Melanie Campbell, Vice President of Commercial Lines at Cross Insurance. "It has been our honor to work with MEMIC throughout the decades, and we will treasure our ongoing relationship with them."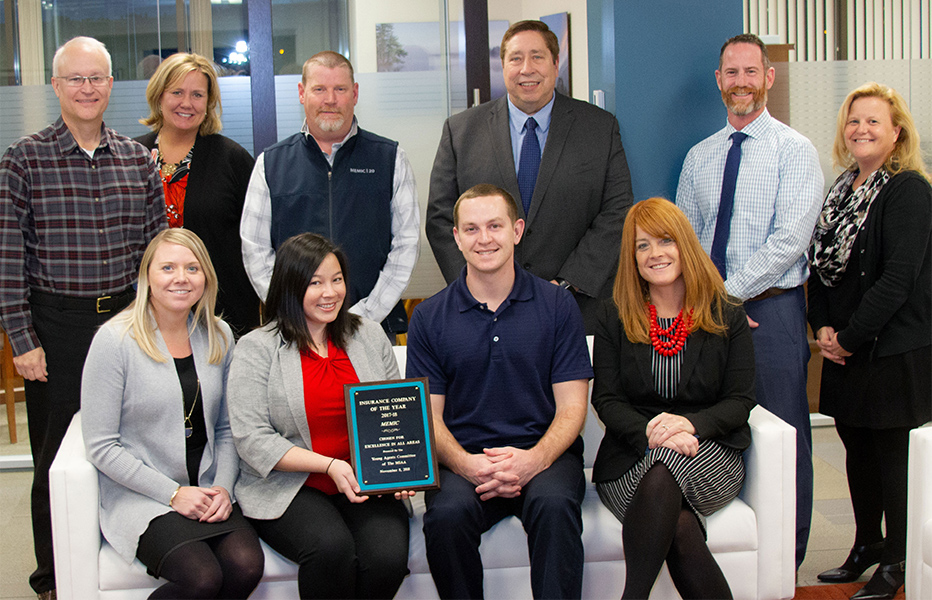 MEMIC is Maine's leading workers' compensation insurer, celebrating its 25th anniversary this year. Injuries in Maine have been reduced by more than 40 percent and the cost of insurance has dropped by 60 percent since 1993, the year MEMIC began operations. As a mutual insurance company, MEMIC shares its financial success in the form of dividends with the employers across the state that are its policyholders and owners. This year's record dividend totaled $22 million, that's more than $263 million returned to MEMIC policyholders since 1998. Insurance agents across the state offered praise for the selection of MEMIC.

"I've been in this industry starting on my 37th year," said Heidi Louten of Quirion Insurance. "I remember what it was like before MEMIC. What a mess! Rates were ridiculous and companies were pulling out of Maine."

"When MEMIC came along 25 years ago it was such a relief to those writing workers' compensation in Maine to have a company that could service our clients' needs as well as the agents representing them," said Wanda Guiggey, Commercial Lines Supervisor at United insurance. "Thank you MEMIC for what you have done for the State of Maine and for providing great loss control to our customers to help them to keep their rates down."

"By providing the best loss control services and the most knowledgeable workers' compensation underwriters in the business, MEMIC has made workers' compensation easier and earned this award," said Paul L. Tracy, President of The Winter Harbor Agency & Member of Grindstone Financial Group, LLC.

"MEMIC is made up of passionate, dedicated individuals who care about the communities we service," said Deborah L. Wentworth, Vice President of Business and Employee Benefits at Clark Insurance. "Company of the year is a well-deserved distinction."

Also this year, MEMIC was named the top workers' compensation insurer in the U.S. by ACORD, the global standards-setting body for the insurance industry. MEMIC received the Corporate State Advocacy Award from Million Women Mentors and MEMIC employees received the UNITED We Thrive Award for charitable giving from the United Way of Greater Portland.

###

About MEMIC
The MEMIC Group includes MEMIC Indemnity Company, MEMIC Casualty Company, and parent company Maine Employers' Mutual Insurance Company; all rated "A" (Excellent) by A.M. Best. As a super-regional workers' compensation specialty insurer, The MEMIC Group holds licenses to write workers' compensation across the country. The group insures more than 20,000 employers and their estimated 300,000 employees, and holds more than $1.3 billion in assets. The group maintains offices in Manchester, NH; Glastonbury, CT; Albany, NY; Weehawken, NJ; West Conshohocken, PA; Tysons Corner, VA; and Tampa, FL; in addition to its headquarters in Portland, ME.

Photo Caption – Employees of every department share in MEMIC's "Company of the Year" award, including Loss Control Director Randy Klatt, Compensation & Benefits Director Kristen Wintle, Technical Support Supervisor Jeremy Barth, Claims Vice President Tom Wiese, Premium Audit Manager Ken Farley, Human Resources Director Deb Sabatino, Corporate Communications Director Kelly Barden, Underwriting Analyst Manager Shae-Li Fendler, Underwriting Manager Ben Delcourt, Finance Vice President Eileen Fongemie.