$18 Million Hits Maine Employer Mailboxes This Week; MEMIC Dividend Issued to Nearly 17,000
November 17, 2015 |

Financial
PORTLAND, Maine, November 17, 2015 – Workers' compensation insurer MEMIC has mailed its annual dividend checks to about 17,000 employers in Maine, totaling nearly $18 million. The largest check is more than $200,000 and the average payout was more than $1,040 per employer.
The total amount was equal to the record dividend issued in 2014, and represented more than 14 percent of premium paid by policyholders in 2012, the qualifying year for this dividend declaration. The company's Board of Directors voted to issue the dividend at its September meeting.

"This dividend is the result of the partnership we create with our policyholders to reduce workplace injuries," said MEMIC President and CEO John T. Leonard. "When we work together to reduce injuries and to control the cost of those injuries that do occur by getting people well and back to work promptly, this is a result we can achieve together."

The dividend was paid to employers who buy their workers' compensation insurance coverage from The MEMIC Group's mutual company, Maine Employers' Mutual Insurance Company, based in Portland.While most checks are sent by the mail, some delivered directly by the employer's insurance agent.

With this dividend, the MEMIC Board of Directors has authorized the return to policyholders of approximately $200 million since 1998. In addition, the company has now issued a dividend in each of the last 11 years.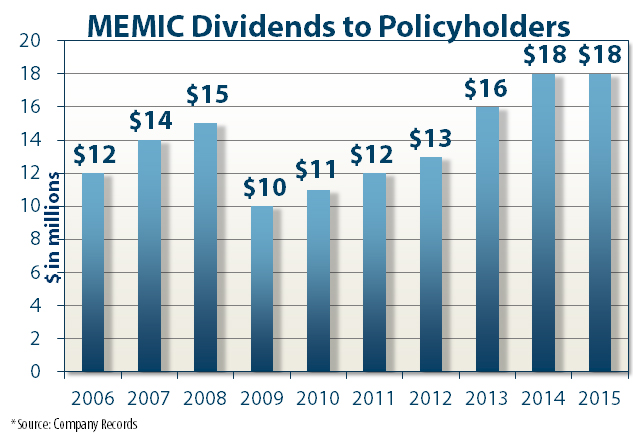 ###
About MEMIC

The MEMIC Group includes MEMIC Indemnity Company, MEMIC Casualty Company, and parent company Maine Employers' Mutual Insurance Company; all rated "A" (Excellent) by A.M. Best. As a super-regional workers' compensation specialty insurer, The MEMIC Group holds licenses to write workers' compensation in 46 states plus the District of Columbia. The group insures more than 20,000 employers and their estimated 300,000 employees, and holds more than $1 billion in assets. The group maintains offices in Manchester, NH; Glastonbury, CT; Albany, NY; Weehawken, NJ; West Conshohocken, PA; Tysons Corner, VA; and Tampa, FL; in addition to its headquarters in Portland, ME.