Lily Hanstein
Vice President, Strategy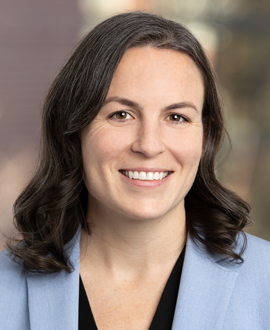 Lily joined the MEMIC team in January of 2020 to kick off and facilitate an organizational strategic planning process and was promoted to Vice President of Strategy in 2022. Prior to joining MEMIC and the insurance world, Lily worked for pro-voke LLC, a consulting firm where she worked since 2017 counseling a wide range of clients including Fortune 500 companies and non-profit entities building strategy, culture, and branding. Prior to that experience, Lily worked in retail banking for
six years where she assisted in developing branding and strategy. Lily holds a B.A. in English from Bates College and a Workers' Compensation Professional (WCP®) designation and spent three years guiding groups through Class III-V whitewater in western Maine.
Lily is a founding member of Women United, an United Way Southern Maine affinity fundraising group that supports single mothers and their children through targeted, whole-family support networks. She is an active advocate for affordable community childcare and facilitates strategic planning for community stakeholders in East Bayside, Portland. Lily lives in Portland, Maine with her partner, Josh.
Download Lily's bio