Beat the Heat
June 25, 2019
General, Outdoor Safety, OSHA, Claims Management

Temperatures this summer are going to be hotter than average for the eastern and western regions of the country according to the National Weather Service's Climate Prediction Center. Although the temperatures this spring haven't been above average, the smart move is to plan and take precautions for a hot summer with excessively high temperatures.
Working outdoors and being exposed to excessive heat is more dangerous than people typically realize. Because employers are responsible for providing their employees with a safe workplace, it is important for employers to develop a Heat Illness Prevention Program when their employees are exposed to working in high temperature conditions. According to OSHA, this program should include information on:
Providing workers with water, rest, and shade
Allowing new or returning workers to gradually increase workloads in order to acclimatize
Planning for emergencies
Training for employees on prevention of heat-related illnesses
The chart below that is provided by OSHA, explains when and what level of protective measures need to take place at each risk level.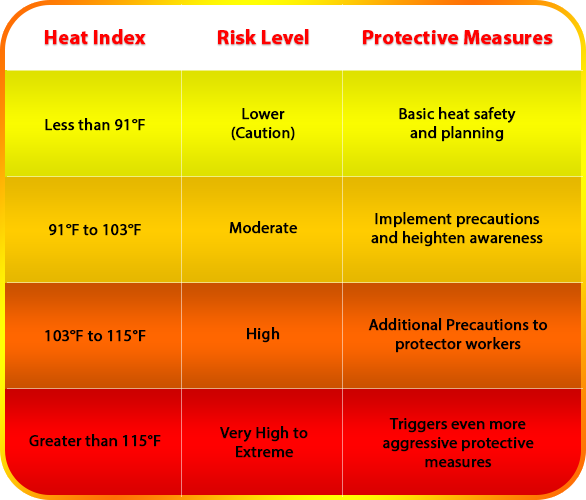 For more information on heat-stress related illnesses read MEMIC's blog Don't Be a Hot Head: Tips to Avoid Heat Stress. We also offers more information to on outdoor safety in the Safety Director for MEMIC policyholders.
Check out OSHA's Water. Rest. Shade. Campaign. This campaign provides employers with plenty of information and training resources that they need to protect their employees that are exposed to excessive high temperatures. The OSHA-NIOSH Heat Safety Tool App can also be helpful in planning work days in the heat and making appropriate adjustments based upon weather conditions and forecasts in your area.
The National Integrated Heath Health Information System is also a great resource for preparing for extreme heat in advance. Here you can find information on heat alerts, planning for heat waves, heat forecasts, at-risk groups, etc.
By Megan Pelletier