It's Road Construction Season Once Again
July 05, 2017
Construction, Transportation, General, Outdoor Safety, Youth Safety
While many areas of the country experience road construction year-round, summer generally means an uptick in highway projects. Summer also brings an increase in traffic as people head out on vacations. This is especially true this year with the lowest July gas prices since 2005.
Combined increases in both traffic and construction poses obvious challenges for both motorists and construction crews.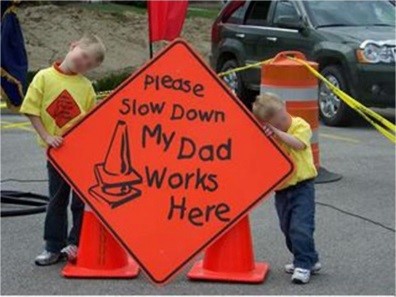 According to the Bureau of Labor Statistics, there were 2,054 workplace fatalities in 2015 involving transportation (42% of all workplace fatalities in 2015). Roadway incidents involving motor vehicles and pedestrians struck by vehicles accounted for 1,553 of those fatalities, and 130 of those fatalities occurred at road construction sites. Total fatalities in work zones, including pedestrians and motorists not at work, totaled 700. Needless to say, more focus is needed in an industry where workers on foot are intentionally placed in close proximity to moving traffic.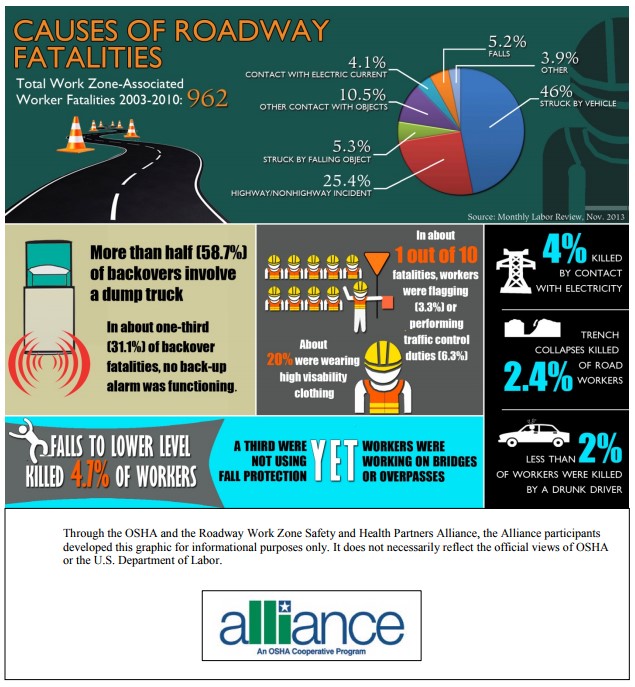 Each year speeding is found to be the most common cause of traffic crashes. Since nearly half of roadway fatalities result from employees being struck by moving vehicles a reasonable recommendation is to slow down! Highway work zones often have reduced speed limits posted, and many states double the fine amount for exceeding those limits. Motorists must be more vigilant when approaching construction sites. Expect workers and heavy equipment to be moving around the site frequently and adjust speed accordingly. Driving more conservatively will get you to your destination, and avoid the frustration and increased risk of a crash that comes with driving faster. By the way, it will also save money in fuel and car

Following flagging personnel direction is also critical for everyone's safety. Flaggers have an important role and distracted or impatient motorists make the job much more difficult and hazardous. Look for these workers along the roadway and expect stop and go traffic. Leave a safe following distance between vehicles and avoid other distractions.

Employers should be setting up work zones in accordance with the Manual on Uniform Traffic Control Devices (MUTCD) and any applicable state supplements, or state MUTCD publications as applicable. Ensuring flaggers are properly trained and equipped is also vital to safe operations. Flaggers should never assume that motorists see them. In fact, flaggers should assume that passing motorists don't see them. Stay out of the traffic lane and always be alert for oncoming traffic and never turn your back to oncoming vehicles.

More information can be found from OSHA on their Highway Work Zones and Signs, Signals, and Barricades webpage, the National Work Zone Safety Information Clearinghouse, the Federal Highway Administration, and the National Institute for Occupational Safety and Health (NIOSH). By working together this summer we can all enjoy the great outdoors and family vacations, and keep our road workers safe as they build and maintain our roadways. Take your time, be courteous and patient, drive sober and well rested, and we'll all Arrive Alive.