Supplement Your Vitamins With Facts
The percentage of Americans using dietary supplements jumped from 42% to 53% from 1994 to 2006, and it is probably even higher now. It is unfortunate that we cannot condense the positive effects of exercise into pill form as it would undoubtedly be a huge seller.
Multivitamins are the most commonly used supplement followed by calcium supplements. Prescription medications are closely monitored by the FDA while a much more lax oversight is provided for dietary supplements. Some specifics recorded on the FDA website regarding supplement oversight are:
Federal law does not require dietary supplements to be proven safe to

FDA's

satisfaction before they are marketed.
For most claims made in the labeling of dietary supplements, the law does not require the manufacturer or seller to prove to the

FDA's

satisfaction that the claim is accurate or truthful before it appears on the product.
In general, the

FDA's

role with a dietary supplement product begins after the product enters the marketplace. That is usually the agency's first opportunity to take action against a product that presents a significant or unreasonable risk of illness or injury, or that is otherwise adulterated or misbranded.
It is not legal to market a dietary supplement product as a treatment or cure for a specific disease, or to alleviate the symptoms of a disease.
There are limitations to

FDA

oversight of claims in dietary supplement labeling. For example,

FDA

reviews substantiation for claims as resources permit.
Are these dietary supplements safe? The FDA website says this about supplement safety:
Many dietary supplements have clean safety histories. For example, millions of Americans responsibly consume multi-vitamins and experience no ill effects.
Some dietary supplements have been shown to be beneficial for certain health conditions. For example, the use of folic acid supplements by women of childbearing age that may become pregnant reduces the risk of some birth defects.
Another example is the crystalline form of vitamin B12, which is beneficial in people over age 50 that often have a reduced ability to absorb naturally occurring vitamin B12. But further studies are needed for some other dietary supplements.
Some supplements have had to be recalled because of proven or potential harmful effects. Reasons for these recalls include:
microbiological, pesticide, and heavy metal contamination
absence of a dietary ingredient claimed to be in the product
the presence of more or less than the amount of the dietary ingredient claimed on the label
In addition, unscrupulous manufacturers have tried to sell bogus products that should not be on the market at all.
Conjugated Linoleic Acid (known as "CLA") is a mixture of fatty acids that occurs naturally in meat and dairy products. It is marketed as a supplement to prevent cancer, hardening of the arteries, obesity and for weight loss among many other things. It has been shown to reduce a small amount of stored body fat when taken regularly but that action is not associated with body mass index change or weight loss.
Furthermore, CLA was reported to be "possibly ineffective" for the common cold, diabetes and high cholesterol. "Insufficient evidence" is all that is available for its use in allergies, asthma, breast cancer, colon cancer, strength and rheumatoid arthritis. It is not safe for use in bleeding disorders, diabetes (it may worsen the disease), surgery (increased bleeding risk), and may increase your risk of diabetes if you have metabolic syndrome (waist circumference > 40 inches for men and >35 inches for women, elevated blood sugar, cholesterol, triglycerides and blood pressure).
As with many supplements, you can see that it might be very prudent to talk to your health care provider before embarking on use. Stay Well!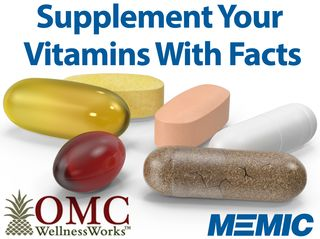 Posted by Larry Catlett, MD, OMC WellnessWorks