OSHA Fine Set to Increase
February 15, 2016
General, OSHA
OSHA has recently been granted an increase to their fine structure. The Federal Civil Penalties Inflation Adjustment Act of 1990 had exempted OSHA from increasing penalties to adjust for inflation.
The new budget, signed into law on November 2, 2015, contains an amendment that removes this exemption. This increase in fines will be the first time OSHA has raised their limits in over 25 years and is due to become effective on August 1, 2016.
Current penalties are as follows (Source: OSHA):
Citations and Penalties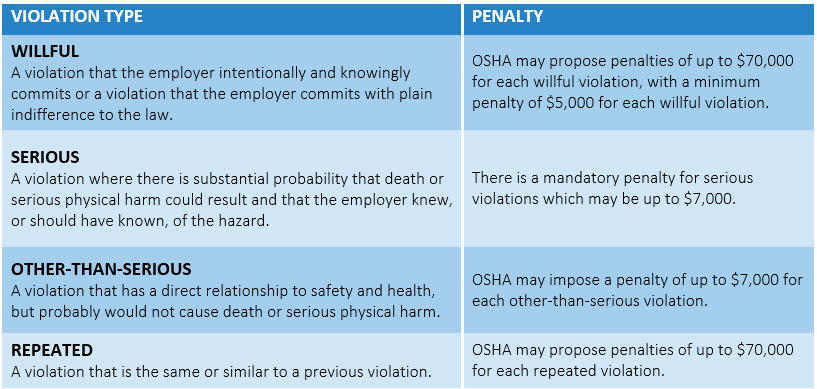 OSHA is now directed to issue an interim final rule increasing its penalties substantially. Here are the proposed maximums:
Other Than Serious - up to $12,500
Serious – up to $12,500
Repeated – up to $125,000
Willful – up to $125,000
What we don't know is if OSHA will wait until the August 1, 2016 date or start enforcing the new penalty structure sooner. OSHA will also be allowed to increase its penalties in future years to adjust for inflation.
As we all know, worker safety should be a top priority for every business owner. Regardless of the fine structure for OSHA citations, implementation of formal safety programs will greatly reduce the chance of injury and potential fines. Check out our resources within the Safety Director for online assistance with your safety program.