Transportation Leads the Way
August 08, 2012
General, Transportation, Leadership and Management, Driving Safety
In 2010, 4690 U.S. workers died while on the job. Although this represents a 3% increase from 2009, both years continue an overall downward trend in workplace deaths. For example, in 1994 there were 6632 workers killed. This trend is good news for all of us, yet over 13 people still die each day at work.
Take a look at the pie chart below to see the manner in which fatal work injuries occurred. With this knowledge you may be able to address specific issues at your workplace in order to mitigate the hazards. It's pretty easy to see what is killing most people: 40% of fatalities were transportation incidents.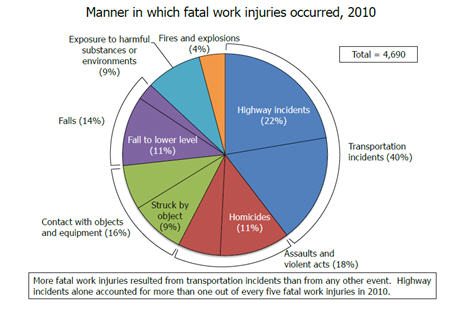 Source: U.S. Bureau of Labor Statistics, U.S. Department of Labor, 2012
Ask yourself if your employees drive either company cars, vans, trucks, heavy machinery, or their own personal vehicles during the course of their jobs. If the answer is "yes" then a fleet plan should be developed to ensure the safe operation and condition of all vehicles. There are many elements to a comprehensive fleet plan and each organization's would differ slightly. However, they should all include policies regarding driver's license checks, vehicle inspections, maintenance programs, traffic law responsibilities, and driver safety training and education.
Check out the Safety Director Resource Library at MEMIC.com for fleet plan tools and resources. Get started today and ensure all employees Arrive Alive each and every day.