The MEMIC Group Leads in Advancing Workers' Compensation Professionals
November 28, 2017 |

Corporate
PORTLAND, ME, November 28, 2017 – More than sixty MEMIC employees received their Workers' Compensation Professional (WCP®) diplomas at the American Society of Workers' Compensation Professionals (AmCOMP) Annual Fall Meeting in New York City.

With the addition of 2017's graduates, more than a third of the employees at workers' compensation specialist The MEMIC Group now have achieved their WCP® designation, more than any other company in both percentage and in total numbers. In 2016, forty three employees earned their WCP® designation. MEMIC also has six times the industry average of Chartered Property Casualty Underwriters (CPCUs).

"As a specialist in workers' compensation, we take the education and development of our employees very seriously," says MEMIC President and CEO Michael P. Bourque. "I'm so proud that these employees took the time to develop their knowledge and obtain their Workers' Compensation Professional designation. Their knowledge will help us to better serve our customers as we continue our growth."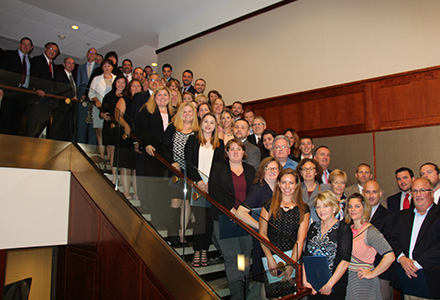 MEMIC's new designees include:
Tammy Allen
Melissa Arrington
Courtney Bowen
Jennifer Campbell
Mike Carmody, WCLS
Ben Cavallaro
Zachary Chapais
Kayla Chauvette
Kristina Cossar, MBA
Vera Cruz
David Darnley, MS, CHSP, CSPHA
Mark Darragh
Ben Delcourt, MSA, CPCU
Donna Dobbins, CPCU, AIM
Ken Farley
Shae-Li Fendler, CPCU
Brittney Fletcher
Rich Flora
Joe Floridino
Ashley Fuller
Julia Gerrity
Gus Gonnella, AIC
Virginia Gregoire, AIC, SCLA
Brian Hatch
Matthew Holbrook
Chris Hughes
Ashley Hurley
Kelsey Jellison
James Keck, AU, CIC
Katrice Kelley
Michael Kemp
Melinda King, CIC, CPIW
Nancy Lacroix
Deborah Lander, RN, BSN, CCM
Ryan Lefebvre
Michael Levinsky, CPA
Sabrina Link
Monica Lyons
Thomas McGlynn
Bobbilyn McLean
Scott Meinke, CPCU, CIC, CWCP, ARM, ARe, AIM, AU, AIS
Karen Merrow
Bethany Moreno
Kelsey Munksgaard
Aaron Paiton
Luis Pedroza, LPCS, FCLA
Shari Peppard, Esq.
Kathleen Pierce
Helen Slocum, MBA, FLMI
Matthew Soule, MBA
Jane St. Jacques
Crissy Suitor
Rob Sylvester, CSPHA, CEHT
Ian Torrey
Scott Valorose, CPE, CSP
Jake Waxler
Alexis Westin, MS, OHST
Debra Willard Webb, RN, MS, COHN-S
Jack Yao, MBA
Christopher Young, ARM, AIS, SCLA
Lori Zobler
AmCOMP awards certifications to insurance professionals who exhibit integrity and excellence in workers' compensation through qualifying work experience and completion of a rigorous 11-week core curriculum followed by a final examination. Professionals who achieve the WCP® designation have proven their knowledge of the workers' compensation field, including history, best practices, coverage areas, claims, risk management, pricing and employer liability insurance, among other areas of specialty. MEMIC employees attended the AmCOMP program through a partnership with the University of Southern Maine's Risk Management Department.


###


About MEMIC
The MEMIC Group includes MEMIC Indemnity Company, MEMIC Casualty Company, and parent company Maine Employers' Mutual Insurance Company; all rated "A" (Excellent) by A.M. Best. As a super-regional workers' compensation specialty insurer, The MEMIC Group holds licenses to write workers' compensation across the country. The group insures more than 20,000 employers and their estimated 300,000 employees, and holds more than $1.2 billion in assets. The group maintains offices in Manchester, NH; Glastonbury, CT; Albany, NY; Weehawken, NJ; West Conshohocken, PA; Tysons Corner, VA; and Tampa, FL; in addition to its headquarters in Portland, ME.