Watch Your Step on That Ladder
July 23, 2014
General, Slips, Trips & Falls
Stepladders are used by many workers and companies due to their convenience and relatively low cost. They quickly help create different work heights and are easily moved and setup. However, misuse and neglect can result in hazards and risk of serious injury.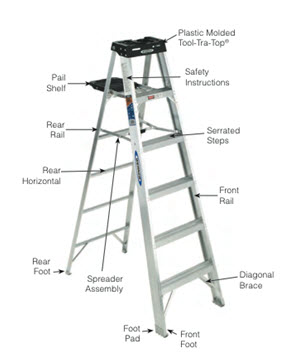 Stepladder - a portable, self-supporting A-frame ladder, nonadjustable in length, with flat steps (usually between the front side rails) and a hinged back.
Stepstool – 32 inches or less, designed so that the ladder top cap as well as all steps can be climbed on.
Chose the right ladder for the job:
Chose a ladder that is designed for how you intend to use it. Do not use stepladders in a folded and leaned position in place of a straight ladder.
Do not use aluminum ladders when working around electricity.
Chose a ladder that is capable of supporting your weight and the weight of any tools, materials, and equipment you will be using.
Make sure that the ladder is the proper length to do the job safely. The highest permitted standing level = second step from top. Maximum safe reach = about 4' higher than ladder.
Consider if the job requires one worker or two.
Inspect them carefully:
Inspect for defects or damage periodically and after any incident that could affect their safe use. Users must inspect ladders before each use. Mark or tag "Do Not Use," remove from service, repair, or destroy if found defective or damaged. Look for:
Rungs – Broken, split, cracked, corroded, bent, missing, or slippery.
Side Rails - Broken, split, cracked, corroded, bent, slippery, or coated.
Hardware – Loose, corroded, weakened, bent or missing.
Feet - Missing or damaged; non-skid pads for use on hard surfaces.
Slip hazards - Oil, grease, dirt, moisture, etc. Clean as necessary. Coatings or paint - Hide or make defects difficult to identify.
Use them safely:
Workers must be able to recognize hazards and take action to control them.
Do's
Read and follow manufacturer's instructions and labels
Maintain 3-points of contact when climbing or descending
Stay near the middle of the ladder
Face the ladder when climbing up and down
Use a barricade to keep traffic away from ladder
Keep ladder free of any slippery materials
Secure ladder if not on stable surface
Wear proper footwear with good treads
Don't
Use for a purpose other than it was designed for
Use while spreaders are unlocked
Stand on the top step or top cap
Move or shift ladder while person or equipment is on the ladder
Climb bracing between the rear rails
Paint with opaque coating
Leave tools or materials on it
Consider some alternatives (e.g., rolling ladder, platform stepladder, scissor lift, staging) to stepladders if:
Working with heavy tools or materials
Working at a height for a long or extended time
Working at height that can be unstable
Working or standing sideways to get the job done
Sources:
OSHA Fact Sheet Use of Step Ladders, OSHA 3662
Falling Off Ladders Can Kill: Use Them Safety, OSHA 3625-02R 2014
Ladder Safety Toolbox Talks, Alliance Program Construction Roundtable, 2007
29 CFR Part 1910 Walking-Working Surfaces and Personal Protective Equipment (Fall Protection Systems); Proposed Rule, 2010
Subscribe to
Safety Net Blog
Get notified when new blog posts are published.