Choosing Cut Resistant Gloves
August 26, 2020
Hospitality, General, Construction, Manufacturing, Manual Material Handling, OSHA

You might not have thought about this… But our hands are one of the most important tools in our "TOOLBOX". While many work environments contain automation and new-age machinery, we will always need our hands to manage the process. Engineering controls, like machine guarding, and management policies/procedures remain necessary to avoid injury. But there are still situations where our hands may come in contact with objects that can cause hand injury, particularly cuts from sharp objects.
There are so many choices for hand protection on the market that it can often be tough to choose the right glove for the task. Cut resistancy, for example, can be difficult to discern just from a glove's material composition and thickness. With new and emergent textile materials on the market (Kevlar, Spectra, Dyneema and other super-fiber/metal blends), it's not necessarily just thickness that contributes to cut resistance as historically referenced.
OSHA Standard
Although there are no OSHA standards that specifically address use of cut resistant gloves, there are specific references in the following standards that specify the "employer's" responsibility to provide appropriate protection for specific hazards associated with employee tasks:
29 CFR 1910.138(a)- General requirements. Employers shall select and require employees to use appropriate hand protection when employees' hands are exposed to hazards such as those from skin absorption of harmful substances; severe cuts, or lacerations, severe abrasions; punctures; chemical burns; thermal burns; and harmful temperature extremes.
29 CFR 1910.138(b)- Selection. Employers shall base the selection of the appropriate hand protection on an evaluation of the performance characteristics of the hand protection relative to the task(s) to be performed, conditions present, duration of use, and the hazards and potential hazards identified.
Choosing the Right Glove
Before choosing employee hand protection, it is important to match the glove with the job task and the hands that are wearing them. A PPE assessment should be completed to assess the hazards that employees may encounter, and the following questions should be considered:
Is there potential for hand injury from these hazards?
Cuts-Impact

Punctures-Vibration

Heat, Flame, and Thermal Burns-Electrical

Chemical Absorption-Discomfort
Many gloves on the market today are designed to serve multiple functions, with some functions performing better than others. It's sometimes necessary to find an appropriate balance between performance, protection, comfort, and functionality. When choosing cut resistant gloves, for example, United States glove manufacturers use the ANSI ISEA 105-2016 standard to classify cut resistance levels. The ANSI ISEA 105-2016 standard offers a range of nine cut resistant levels: A1-A9. These levels depict how many grams of cutting load a glove can withstand from penetration by a sharp blade. The higher the weight in grams to cut, the higher the performance.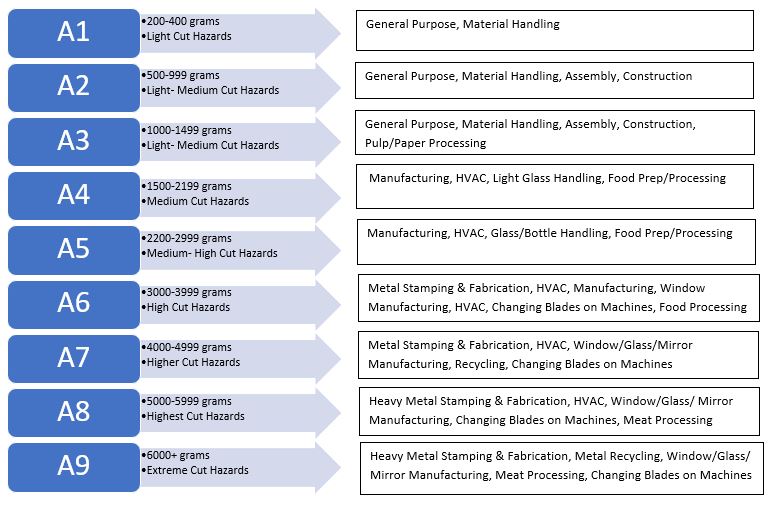 It is important to remember that while cut resistancy is important when choosing hand protection, it is also necessary to consider other associated hazards that may present an equal or additional hazard warranting additional protection. Hand protection ratings for other hazards such as thermal protection, puncture, chemical permeation, and heat degradation are not reflected in this guide. Unless suggested by the manufacturer, gloves are not recommended when operating machinery with pinch-points. The common industry applications noted above should be referenced only as a guide. Contact your safety equipment supplier for further guidance on application needs. You can also learn more about gloves and hand safety by listening to the MEMIC Safety Expert Podcast featuring Joey Geng, Vice President of Superior Glove.