MEMIC Hires Shelby Pedersen as Safety Management Consultant
January 13, 2020 |

Corporate
MEMIC hires Shelby Pedersen as Safety Management Consultant based in New Jersey. Shelby's educational background includes a bachelor's degree in Athletic Training with a minor in Health Education from Kean University and a master's degree in Advanced Clinical Practice in Athletic Training from East Stroudsburg University. Further, she has been a Certified/Licensed Athletic Trainer since 2015 and in 2019 obtained the Associate Safety Professional credential.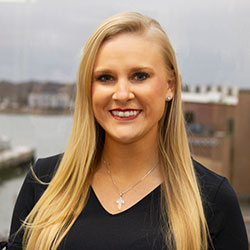 In Shelby's past professional experience she provided injury prevention and management services as a contractor for a large cosmetics company. She actively worked and continues to work to reduce work-related injuries using administrative and engineering controls with her background in ergonomics as well as safety.
###
About MEMIC
The MEMIC Group includes MEMIC Indemnity Company, MEMIC Casualty Company, and parent company Maine Employers' Mutual Insurance Company; all rated "A" (Excellent) by A.M. Best. As a super-regional workers' compensation specialty insurer, The MEMIC Group holds licenses to write workers' compensation across the country. The group insures more than 20,000 employers and their estimated 300,000 employees, and holds more than $1.4 billion in assets. The group maintains offices in New Hampshire, Connecticut, New York, New Jersey, Pennsylvania, Virginia and Florida, in addition to its headquarters in Portland, Maine.